Good Afternoon Americans for the Arts Members,
Happy February! For those of you that are in cold climates, please stay warm. For those of you that are in warm climates, send some of that warmth our way! I'm writing to let you know about some great stuff we have coming up on ArtsU during the month of February. And remember, all sessions on ArtsU are free to you as a benefit of being a member of Americans for the Arts, so enjoy as many as you would like!
Taking on Google Analytics – 3 Part Series*
Are Google Analytics something that have been on your radar? With tools that allow you to measure things such as your advertising ROI, track your Flash, video, and social networking sites and applications, Google Analytics gives you the tools you need to better understand your customers. To help you make better sense of Google Analytics, Americans for the Arts has worked with arts marketing experts to design a 3-part series for beginners and experts alike. Join us for one or all of this 3-part series to gain a better understand of what exactly Google Analytics is and how to make better use of its functions.
Lesson 1 (February 12): Getting Started
Lesson 2 (March 7): What am I Looking At?
Lesson 3 (March 26): Using Your Data to Make Decisions
Collaborative Leadership for Impact
Thursday, February 14 @ 3:00PM EDT
Collaborative Leadership is an approach which brings together leaders across organizations and sectors to create and implement a common agenda to achieve equitable, sustainable and replicable results. Authentic, adaptive, inclusive, and collaborative leadership styles are essential for these efforts to truly move the needle. This approach is built upon five interconnected components and shared values. In this webinar we will explore how a collaborative leadership approach can produce strong alignments and lead to large-scale impact and effective collaborations.
February 2019 Member Briefing – Updates to AFTA's Cultural Equity Initiatives
Tuesday, February 19 @ 3:00PM EDT
This month's Member Briefing will give an update to Americans for the Arts' cultural equity initiatives. Cristyn will be joined by Clay Lord, Vice President of Local Arts Advancement with Americans for the Arts. Clay will share information from AFTA's new report, Mapping Our Progress Towards Cultural Equity. This report takes a look at the work that AFTA has been doing internally and externally since the release and adoption of our Cultural Equity Statement in 2016.
February 2019 Emerging Leaders Network Call
Tuesday, February 21 @ 3:00PM EDT
Join us each quarter for conference call with the Emerging Leaders Network of Americans for the Arts. Every call will feature an Emerging Leader in the Arts and Culture field, discuss trends in the sector, include open space for Emerging Leaders to share and receive feedback, have an Americans for the Arts update, and more. Emerging Leaders from across the arts and culture sector are encouraged to join. Calls are open and free to members of Americans for the Arts. All calls will be recorded and archived.
10 Reasons to Support the Arts in 2019
Tuesday, February 26 @ 3:00PM EDT
With the arts advocacy season fully upon us, join Randy Cohen, our VP of Research and Policy, to discuss the latest updates to the top "10 Reasons to Support the Arts" and get 10 case-making arrows to include in your arts advocacy quiver to convince anyone to support the arts.
We can't wait to see you out there!
Best,
Cristyn
Cristyn Johnson
Local Arts Advancement Program Manager
Americans for the Arts
1000 Vermont Ave NW 6th Floor
Washington, DC 20005-4940
202.371.2830 x2036
202.789.2830 fax
Follow us: Facebook, Instagram, Twitter
Pronouns: she/her/hers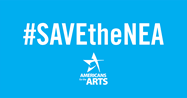 *Special shout out to the Pennsylvania State Council on the Arts that is funding our Google Analytics series. Thank you for your support!