Hi Emerging Leaders,
I'm forwarding along this announcement that registration for the Emerging Arts Leaders Symposium at American University is officially open. There is a great keynote already announced. We hope to see you there!
Best,
Cristyn
Cristyn Johnson
Local Arts Advancement Program Manager
Americans for the Arts
1000 Vermont Ave NW 6th Floor
Washington, DC 20005-4940
202.371.2830 x2036
202.789.2830 fax
Follow us: Facebook, Instagram, Twitter
Pronouns: she/her/hers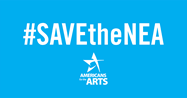 From: Emerging Arts Leaders Symposium <auartsymposium@american.edu>
Sent: Thursday, January 24, 2019 10:04 AM
To: Cristyn Johnson <cjohnson@artsusa.org>
Subject: EALS 2019 Keynote Announced - Tickets On Sale Now
EALS 2019 KEYNOTE ANNOUNCED




Tickets now on sale!
Coinciding with Americans for the Arts' annual Arts Advocacy Day, EALS at AU presents the 12th Annual Emerging Arts Leaders Symposium

Coming UP: Innovation, Evolution, and Progress in the Arts

March 3, 2019

Katzen Arts Center | American University

2019 Keynote Speaker: Melissa Chiu

This year's Symposium theme, Coming UP, is an exploration of the artists and arts managers who are making strides to challenge norms, break down barriers, and invest in the future.

We're thrilled to announce that Melissa Chiu, Director of the Hirshorn Museum and Sculpture Garden, will be kicking off this dynamic and timely discussion.

Learn more about Melissa Chiu here.
Tickets

General Admission - $25
*Ticket prices increase to $35 on February 24

Have a group of 6 or more people?
Contact auartsymposium@american.edu for group rates.