Hi everyone,
Piggybacking off of Ruby's email, I wanted to let you know that Randy Cohen, AFTA's Vice President of Research and Policy will be doing a live webinar on the results of our Americans Speak Out about the Arts in 2018 study. If interested, be sure and register. If you aren't able to join live, the webinar will be recorded and available for replay on Wednesday, October 3.
MORE INFO
Date/Time: Tuesday, October 2, 2018 @ 3:00pm EDT
Registration Link: http://bit.ly/2ImyOqZ
Description: It's undeniable—the arts transform people and communities every day. But how do Americans feel about the arts? Do they value artistic activities and arts education? Do they feel the arts are an important part of their lives and do they support government funding for the arts?
There's no need to guess at the answers for these questions! Join Randy Cohen, Vice President Research & Policy with Americans for the Arts, for a webinar about new data from the "Americans Speak Out About the Arts in 2018" study, which provides an in-depth look at the perceptions and attitudes about the arts in the United States. Based on more than 3,000 interviews and conducted in partnership with Ipsos Public Affairs, this study documents the public's personal involvement in the arts, the individual and community benefits that come from engaging in the arts, and the public's support for arts education and government arts funding.

We hope to see you there!
Best,
Cristyn
Cristyn Johnson
Local Arts Advancement Program Manager
Americans for the Arts
1000 Vermont Ave NW 6th Floor
Washington, DC 20005-4940
202.371.2830 x2036
202.789.2830 fax
Follow us: Facebook, Instagram, Twitter
Pronouns: she/her/hers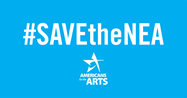 From: county_arts_network@americansforthearts.simplelists.com <county_arts_network@americansforthearts.simplelists.com> On Behalf Of Ruby Lopez Harper
Sent: Thursday, September 27, 2018 6:32 PM
To: local_arts_network@americansforthearts.simplelists.com; usuaf@americansforthearts.simplelists.com; county_arts_network@americansforthearts.simplelists.com; rural_arts_network@americansforthearts.simplelists.com
Subject: [Americans for the Arts] AFTA Public Opinion Study Is L-I-V-E !!
Hola esteemed colleagues – making sure you don't miss the release of some great new research!!
https://www.americansforthearts.org/by-program/reports-and-data/research-studies-publications/public-opinion-poll-overview
This morning we released Americans Speak Out about the Arts in 2018, our national public opinion survey on the arts—and one of the largest ever conducted. This is an update of the study we conducted two years ago. Now, like then, there are some excellent stories . . .
72 percent of Americans say they attended an arts or cultural event last year (up 4 percent).

69 percent of the adult population believe the arts are a "positive experience in a troubled world." (We can definitely use more arts in society these days!)

72 percent believe "the arts unify our communities

regardless

of age, race, and ethnicity" and 73 percent agree that the arts "helps me understand other cultures better"—both figures are up from two years ago.

An overwhelming majority of the American public (91 percent) agrees that the arts are part of a well-rounded K-12 education—including 61 percent who "strongly agree" (just a wee 5 percent disagree)!

More than half of Americans approve of arts funding by local government (60 percent), state

government

(58 percent), federal government (54 percent), and by the National Endowment for the Arts (64 percent). And, the majority supports doubling the NEA's funding.

52 percent of adults say, "Yes, I sing in the shower or when no one else is listening." (Next staff retreat we will be looking for a show-of-hands on this one

😊

!).

New this year are eight statewide studies that we conducted in states important to our arts advancement programs and services.
Ruby Lopez Harper
Director of Local Arts Services
202.371.2830 x2079
To unsubscribe from this list please go to http://www.simplelists.com/confirm.php?u=AV9gSwtY0gaHwVro8VnIxCt9WlDswbQv