Hi everyone,
Please see the below information from Adam at Mid-Atlantic Arts Foundation. They are currently accepting nominees for the 2019 Alan Cooper Leadership in the Arts Award. Nominate a great leader you know today!
Best,
Cristyn
Cristyn Johnson
Local Arts Advancement Program Manager
Americans for the Arts
1000 Vermont Ave NW 6th Floor
Washington, DC 20005-4940
202.371.2830 x2036
202.789.2830 fax
Follow us: Facebook, Instagram, Twitter
Pronouns: she/her/hers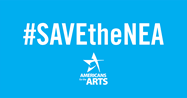 From: Adam Plantz <AdamP@midatlanticarts.org>
Sent: Wednesday, October 3, 2018 2:46 PM
To: services <services@artsusa.org>
Subject: 2019 Alan Cooper Leadership in the Arts Award
Importance: High
To whom it may concern,
I hope by now you have already seen Mid Atlantic Arts Foundation's announcement regarding the 2019 Alan Cooper Leadership in the Arts Award, but I wanted to make certain that you received information about this opportunity. We know that you may have access to networks that we don't know about and we hope that you might pass this along to anyone that you think should be aware of the award opportunity.
Established in 2017, the Alan Cooper Leadership in the Arts Award honors the legacy of an active arts leader who has made outstanding contributions to the arts through extraordinary leadership. Eligible nominees will have demonstrated impactful leadership in the arts in one or more of MAAF's nine partner jurisdictions of Delaware, the District of Columbia, Maryland, New Jersey, New York, Pennsylvania, the U.S. Virgin Islands, Virginia, and West Virginia.
For more information through Mid Atlantic Arts Foundation's website, visit the Award page here. To access a PDF of the Award Guidelines, see the attached PDF form or navigate to the form here. Please bear in mind that self-nomination is not permitted and that the nomination materials must be received no later than November 8, 2018.
Nomination materials may be submitted by email to adamp@midatlanticarts.org or by mail at the following mailing address:
Attn: Adam Plantz, Executive Assistant
Mid Atlantic Arts Foundation
201 North Charles Street, Suite 401
Baltimore, MD 21201
Thank you,
Adam Plantz
Adam "Bo" Plantz | Executive Assistant
Mid Atlantic Arts Foundation
201 North Charles Street, Suite 401 | Baltimore, MD 21201
adamp@midatlanticarts.org | 410.539.6656 . 102