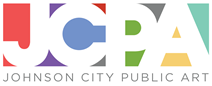 Hello!
The Public Art Committee of Johnson City, TN is seeking qualifications from artists or art teams for the commission of a mural in downtown Johnson City.

Application Deadline: January 15th, 2020
ELIGIBILITY: This opportunity is open to all professional artists over the age of 18.
BUDGET: Up to three finalists will be selected to develop concept proposals for this project. The total project budget for the selected commission is $17,500. Each finalist will be paid a $500 stipend for his/her proposal. The selected artist will be paid $16,000 for the commissioned work. Artist will be responsible for own travel costs, materials, housing, and personal liability insurance. Artist will be responsible for applying a UV sealant and anti-graffiti coating.

PROJECT DESCRIPTION: The Johnson City Public Art Committee will commission a professional artist to paint a large scale narrative mural that addresses the theme of "Bounty." Our region and especially our downtown is replete with a variety of natural resources. We are quickly becoming an outdoor recreation destination. We have plentiful and robust agricultural resources and great cultural and historical offerings. Our residents are warm and inviting. We would like for the mural to reflect the myriad and bountiful richness of our community. We are looking for proposals that convey the dynamic energy of renewal and the sense of community developing in our downtown area. Proposals should convey a clear sense of place. The chosen wall at 120 Commerce Street is historically rich and is situated adjacent to Founders Park. It will serve as an iconic focal point for the park and will be visible to a variety of pedestrians and downtown visitors. It is also visible from State of Franklin Rd which will further entice visitors to our downtown.
INSTALLATION DATE: Installation will take place by September 2020.

APPLY: Submit a digital packet at https://jcpublicart.com/call-for-qualifications-mural-project-in-johnson-city-tn/
Please view attached RFQ for complete guidelines and requirements.

Best regards,
Cheyenne