The Arts and Science Council's Public Art Program has published a new call to artists:
Torrence Creek Tributary Public Art Opportunity
Project Budget: $255,000 USD
Deadline: January 20, 2020 at 11:59 EDT
The Arts & Science Council is accepting qualifications from artists/artist teams for a public art opportunity at Torrence Creek Tributary #2, Huntersville, NC. The selected artist will work with the ASC, Mecklenburg County Park and Recreation, Dewberry DesignBuilders, Inc., and the local community to create an impactful artwork that responds to the parameters of the site and the themes identified by the project team. The programmable, permanent light installation should increase visibility and improve pedestrian security throughout the 300-foot tunnel. The minimum light level requirement is 200 lumens. The design should transform the underpass into a dramatic and lively suburban experience through the use of interactive and animated colors or patterns of varying intensity throughout the tunnel. The artwork should encourage the use of the Torrence Creek Greenway by those who live, work and play and in area.
The complete RFQ can be found at http://www.artsandscience.org/resources-for/artists/calls-to-artists/ .
All applications should be submitted online at https://asc.slideroom.com.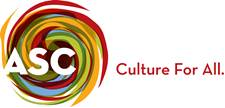 Erin Taylor | Program Coordinator, Public Art
ASC. Culture For All.
(p) 704.335.3054|erin.taylor@artsandscience.org
ArtsAndScience.org | CharlotteCultureGuide
Pronouns: She/Her/Hers

Consider the environment. Please don't print this e-mail unless you really need to.
Confidentiality Note: This e-mail, and any attachment to it, contains privileged and confidential information intended only for the use of the individual(s) or entity named on the e-mail. If the reader of this e-mail is not the intended recipient, or the employee or agent responsible for delivering it to the intended recipient, you are hereby notified that reading it is strictly prohibited. If you have received this e-mail in error, please immediately return it to the sender and delete it from your system. Thank you.