Hi Everyone,
Take a look at this great upcoming webinar tomorrow hosted on ArtsU! See below for registration information.
Best,
Jessica Stern
Private Sector Initiatives Programs Manager
212-223-2787 x1113
From: local_arts_network@americansforthearts.simplelists.com <local_arts_network@americansforthearts.simplelists.com> On Behalf Of Cristyn Johnson
Sent: Tuesday, April 9, 2019 4:35 PM
To: Local Arts Network Listserv <local_arts_network@americansforthearts.simplelists.com>
Subject: [Americans for the Arts] Equitable Investment Webinar TOMORROW!
Hi everyone,
I wanted to make sure that you saw we have a webinar coming up tomorrow, April 10 at 3:30PM EDT, Reviewing the State of Equitable Investment Policies and Practices in the Local Arts Field. Clay Lord, Vice President of Local Arts Advancement with Americans for the Arts, will be talking about findings from our newly released 2018 Profile of Local Arts Agencies, with a specific focus the state of cultural equity in the field.
More Info
Date/Time: Wednesday, April 10, 2019 @ 3:30PM EDT
Description: In February, Americans for the Arts released two reports—one a summary of working group findings and one a research report—revolving around how local arts agencies can center cultural equity in their investment strategies (grantmaking, people, space, staff, time). In this webinar, learn about both reports, including walking through the working group's goals and recommendations for field action, discussing the findings from the Local Arts Agency Profile's 2018 Equitable Investment Module, and talking about future work Americans for the Arts and others are investing in to begin turning research and discussion into action. If you would like to review the reports in advance, you can find both at the Americans for the Arts Cultural Equity research hub: https://www.americansforthearts.org/about-americans-for-the-arts/cultural-equity/research-reports.

We hope to see you there!
Best,
Cristyn
Cristyn Johnson
Local Arts Advancement Program Manager
Americans for the Arts
1000 Vermont Ave NW 6th Floor
Washington, DC 20005-4940
202.371.2830 x2036
202.789.2830 fax
Follow us: Facebook, Instagram, Twitter
Pronouns: she/her/hers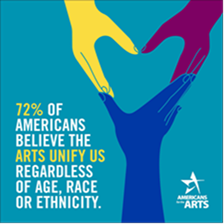 To unsubscribe from this list please go to http://www.simplelists.com/confirm.php?u=5f9xexCUfFEJcuTZ1M5vUtat3ZHxsvzt