Hi Rafael – We show panelists a ranked spreadsheet of the application scores and invite them to adjust the scores if they feel an application was ranked too high or low relative to the others. Aside from asking them to confirm the appropriateness of top-ranking/fully fundable and low-ranking/unfundable applications, we do not correlate application scores with a dollar amount.
Best,
Lisa
Lisa Burk-McCoy
She/Her
Creative Communities & Arts in Health
New Hampshire State Council on the Arts
19 Pillsbury Street . First Floor . Concord, NH . 03301
lisa.burk-mccoy@dncr.nh.gov . 603-271-0794
Join NH's conversation about creative communities
& the arts on Facebook and Twitter.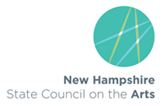 From: uaf@americansforthearts.simplelists.com <uaf@americansforthearts.simplelists.com> On Behalf Of Rafael Torres
Sent: Friday, February 21, 2020 12:35 PM
To: uaf@americansforthearts.simplelists.com
Subject: [Americans for the Arts] Using Panels to Determine Grant Awards
EXTERNAL: Do not open attachments or click on links unless you recognize and trust the sender.
---
Hello!
My organization is looking into UAF general best practices on using panels to determine grant awards. We currently hold panel meetings where applicants are scored and ranked and the ranking is translated into a proposed grant amount. We then allow the panel members to weigh in and move dollars around if they wish. Does anyone else:
<![if !supportLists]>a) <![endif]>Share proposed grant amounts that result from panel scores and ranking at panel meetings?
<![if !supportLists]>b) <![endif]>Let panel members move funds from one organization to another without tying it to a score change?
<![if !supportLists]>c) <![endif]>Have any other process?
Much thanks for any info you're able to provide.
Warmest regards,
Rafael
RAFAEL TORRES
Manager, Grants & Arts Education
UNITED ARTS OF CENTRAL FLORIDA
2450 Maitland Center Parkway, Suite 201 | Maitland, FL 32751-4140
Direct 407.790.7844
UnitedArts.cc | Rafael@UnitedArts.cc
Enriching communities by investing in arts, science and history.
The 2020 Collaborative Campaign for the Arts has begun!
Click HERE to support 60+ arts, science and history organizations in Central Florida!
PLEASE NOTE: Florida has a very broad public records law (F. S. 119). All e-mails to and from government officials are kept as a public record. Your e-mail communications, including your e-mail address may be disclosed to the public and media at any time.
To unsubscribe from this list please go to http://www.simplelists.com/confirm.php?u=oFwcoXEmllpcVhUPsapgYbEZhFQjv9Xs