Responding to Alicia's call out with a few resources below . We have learned of others shaping such programs and shifting from relief support to community projects so more examples to come
Some work and funding initiatives in Boston that may inform your work and some great published resources as well:
Radical Imagination for Racial Justice
We, in partnership with MassArt, have received a $1.2 million award from the Surdna Foundation to support Boston-connected artists of color through a new, three-year regranting program titled Radical Imagination for Racial Justice (RIRJ). We'll distribute funds to artists seeking to advance racial justice through collaborative projects in their communities. The deadline to apply has been extended to July 8, and you can apply at imaginejusticeboston.org
Boston Artists-in-Residence (AIR)
We created a blog post to explain what we're thinking about during COVID-19, and how we're carrying out the program virtually. Learn more here. https://www.boston.gov/news/update-boston-air-leadership-team-karin-goodfellow-and-sharon-amuguni?utm_source=Arts+and+the+City&utm_campaign=June+2020+newsletter&utm_medium=email
Art at a Distance Grant
The Art at a Distance grant program will select 10 artists in the Greater Boston Area and award each of them with a $2000 grant. Each artist will be randomly paired with a partner and invited to create a singular collaborative art piece. The only requirements are that they must work together, and of course, cannot physically be together. Learn More.
LA COUNTY CREATIVE STRATEGIST ANU YADAV RELEASES 'HEALING THROUGH STORY'
Healing Through Story: A Toolkit on Grassroots Approaches is a resource developed with and for the Department of Mental Health by artist and LA County Department of Arts and Culture Creative Strategist Anu Yadav. The toolkit focuses on the power of story as an arts-based healing process that promotes wellbeing and connection. It highlights community-building methods for listening and facilitation and includes interviews with community groups on how we heal.
No Going Back: A COVID-19 Cultural Strategy Activation Guide
By The Center for Cultural Power
05/21/2020
If ever there was a moment for cultural strategy -- it's now. A global pandemic has magnified the flaws of our capitalist system, but, also, the power art and culture to uplift, disrupt and build community. The Center for Cultural Power offers #NoGoingBack: A COVID-19 Cultural Strategy Activation Guide for Artists and Activists to meet the moment.
This illustrated resource points creators to ways they can make moving narratives that advance policy demands that are now within reach. It lays out frameworks and tools that support social change movements to harness the power of artists and culture makers in painting a picture of a more equitable and just future. It also highlights resources for artists who have been hard hit economically and professionally.
Check it out. No Going Back breaks down ways creators and movement groups might do the "what" and "how" of activation now and into the year ahead.
Core narratives to build stories, art and creations, with examples of what you might make
Concrete, actionable policies that you can support with your narratives (aligning vision with nuts and bolts)
Advice on how to put the guide into action
Resources for artists - financial, health, legal and others
We created this guide to inspire you to create and to disrupt. This is a guide for makers and doers - it will help you tell a shared story about who we can be in times of crisis and who we want to become. Jump in and start creating with us!
From: local_arts_network@americansforthearts.simplelists.com <local_arts_network@americansforthearts.simplelists.com> On Behalf Of Alecia Kintner
Sent: Thursday, June 11, 2020 7:06 PM
To: uaf@americansforthearts.simplelists.com; local_arts_network@americansforthearts.simplelists.com
Subject: [Americans for the Arts] Rapid Response Artmaking Grants?
Hello Grantmaking colleagues – hope you are well and safe in these unprecedented times. In Cincinnati, like so many cities, the ongoing protests over George Floyd's murder have prompted lots of inspiring, spontaneous street art. Now, though, I'm receiving lots of funding requests for more organized artistic responses – bigger outdoor installations, storytelling projects, exhibits etc – from grassroots organizations as well as established cultural institutions. I've been dealing with them as they hit my inbox but I could quickly get overwhelmed and I'm wishing I had a process. After covid hit, we immediately made $300K available in competitive emergency response grants to small and mid-sized organizations. I'm wondering if we should repeat a fast, business-unusual investment strategy in this moment too.
I'm curious whether any of you are planning rapid response artmaking grants that help artists respond to/commemorate the evolving situation and public sentiment. What kinds of dollars are you setting aside, what process, what criteria?
Thanks for any models!
Alecia
Alecia Kintner
President & CEO
513.632.0146 | artswave.org
Visit ArtsWave's Coronavirus Arts Hub
to find resources for arts and cultural
organizations and ways to support
the arts sector during this challenging time.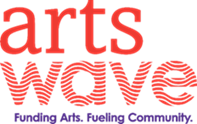 To unsubscribe from this list please go to http://www.simplelists.com/confirm.php?u=qevj3mz1i3SSYkGLeXw387N9bNmF6TR6